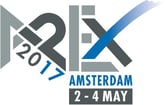 OEM Controls, the leader in design and development of electrohydraulic controllers and control systems for 50 years, is excited to announce their participation with APEX at the Amsterdam RAI Convention Centre from May 2-4, 2017. OEM Controls will be located at Booth# 590 to answer any questions you might have.
OEM Controls will be displaying many of its products being used in the market today. Some of our many products we will be showcasing include Multi-Axis and Single-Axis Joystick Controllers, Hall Effect/CAN Joystick Controllers, Rotary Switches, Foot Pedals, Multi-Grip Handles, and complete controller panel systems.
If you have any questions or comments before APEX, reach out to us at contactus@oemcontrols.com or talk to us at (203) 926-8431 and we will answer any question you might have. Finally, be sure to follow us on LinkedIn and subscribe to OEM's blog to stay up to date with new products.